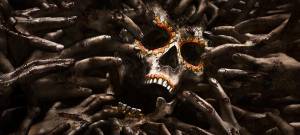 Words cannot capture my utter shock and disbelief at the glowing tributes to Eddie Long on the occasion of his death. Dying was perhaps the best thing he ever did. In so doing, an ignominious rot was removed from the church.
I attended seminary in Atlanta from 1997 to 2000. It was exciting for me to be in a city with so many well-known churches. I made it my business to visit most of them at some point during that time. Never could I bring myself to set foot in the church he pastored for reasons that were unbeknownst to me at the time. It was quite popular, but something about him was downright repellent. Now, I know. God always knew.
Judgment is a present and future reality. A physical malady can be a means of God chastening a believer.
For this reason many among you are weak and sick, and a number sleep. But if we judged ourselves rightly, we would not be judged. But when we are judged, we are disciplined by the Lord so that we will not be condemned along with the world (I Corinthians 11:30-32).
Earthly judgement is a grace bestown because God can kill you in your sin. At best we can hope
Eddie Long repented during his illness in a way he failed to do during the aftermath of his scandal.
Suffice to say, I have no shortage of preacher acquaintances. Almost every single public reaction to his passing was a glowing tribute or a polite platitude. What must those abused boys and conscious believers be thinking today about a community professing faith venerating one who brought shame to the body? I do not believe the professions of black Christendom are God's thoughts.
Eddie Long used his position—and hence the institution of the church—to access, seduce, conceal, and eventually compensate his victims.
[B]ut whoever causes one of these little ones who believe in Me to stumble, it would be better for him to have a heavy millstone hung around his neck, and to be drowned in the depth of the sea. Woe to the world because of its stumbling blocks! For it is inevitable that stumbling blocks come; but woe to that man through whom the stumbling block comes! (Matthew 18:6-7).
Whoever claims those are merely flaws of a mere mortal slanders the Holy Spirit. He will be accountable. Do not be deceived, God is not mocked (Galatians 6:7a).
Just as when Eddie Long's scandal became public, the most compelling voice came from outside the church in the form of comedienne Cadillac Kimberly. She quipped ever so poignantly "God said 'touch not my anointed; do my prophet no harm.' He ain't said nothing about Eddie Long." This time around, it came in the form of blogger,
Son of Baldwin
's essay "Bishop Eddie Long Is Not the Only One Who's Dead."
When I heard the news of Eddie Long's passing, I searched deeply for the right words. The words eluded me even during prayer. He captured my sentiments perfectly. The enablers—direct and indirect—holding to a form of godliness, although they have denied its power; Avoid such [people] as these (2 Timothy 3:5).
Having been the victim of sexual harassment in the church with next to no sympathy or support, I understand what those boys and unchurched onlookers must be feeling. How can those claiming to be alive in Christ travel the world like The Walking Dead? These are not people with whom I would trust my children, let alone my own life.
According to
Wikipedia
, "The Walking Dead" is an American horror drama television series in which the protagonist awakens from a coma discovering a world overrun by zombies, commonly referred to as "walkers." He reunites with his family and becomes the leader of a group he forms with other survivors. Together they struggle to survive and adapt in a post-apocalyptic world filled with walkers and opposing groups of survivors, who are often more dangerous than the walkers themselves.
If that does not sound like the modern church I'll take a vow of silence for life.